We'll manage accounting so you can run your business.
Your QuickBooks ProAdvisor
As a certified QuickBooks ProAdvisor, we can manage everything associated with QuickBooks software either for you or with you.
Integrated Apps
If it doesn't work well with QuickBooks Online, we don't use it. We've carefully selected apps that meet common business needs.
Your Trusted Partner
50% of small businesses fail in the first 5 years.  Success rate goes up 89% when working with an accountant.  Let's succeed together!
Our Core Accounting Platform for QuickBooks Online
QuickBooks transaction automation
Every business needs to accurately track income and expenses.  By leveraging rules in QuickBooks, we ensure every transaction – every month, is coded as efficiently as possible in your accounting software.
Bank and credit card statement reconciliation
If you aren't reconciling your bank accounts and credit card accounts monthly, you have no idea if your income and expenses are accurately recorded.  We ensure every transaction on your bank statement matches every transaction recorded in QuickBooks, every month.
Monthly financial statement preparation
The two key financial statements businesses utilize to measure performance and overall worth are the Profit & Loss Statement and the Balance Sheet.  We prepare and deliver both financial statements monthly so you always know the up-to-date financial position of your business.
Accounts Payable
Paying bills is a necessary evil every business needs to do.  Our A/P process allows for bills to be routed and paid electronically – eliminating the expense and hassle of printing and mailing paper checks.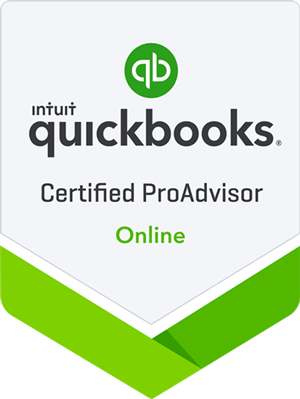 Payroll
What you never want to screw up – payroll!  Running payroll can be a hassle and stressor for many businesses.  With our full service payroll offering you can rest easy knowing both your employees and the IRS get paid timely!
Time tracking
Whether your employees need to track their time on their mobile device, an iPad kiosk, or using a traditional browser, we have a time tracking solution to meet your needs. Build work schedules, run reports, and most importantly – integrate with QuickBooks Online.
Cloud based document storage
Part of "audit-proofing" your business is having the back-up necessary to justify all business income and expenses.  We save and store a digital copy of each monthly statement provided from you bank, credit card provider, loan provider, etc., so you always have access to historical statements when requested.
Electronic Receipt Storage
Yet another key element of "audit-proofing" your business – digital receipts!  If you aren't saving copies of all of your business receipts, you are at-risk if/when an audit shows up at your door!  Start saving receipts with your smart phone and accurately recording them in QuickBooks along with the appropriate expense.
I've been with Skistad Consulting since 2013. Prior to that I switched firms 3 different times. They're the perfect mix for me as Ahmelie has a lot of CPA knowledge yet she doesn't think (or talk) like one. In my world of construction, nothing is black and white. Everything requires a lot of problem solving. CPAs tend to only look backwards and cannot problem solve. This is where they've been huge for us. Accessibility is also their strong suit. I have to be one of their most demanding clients. Many times I need calls or meetings prior to 7am and other times we have texted/emailed well past 7pm. They do all my QuickBooks reporting, manage paperless Accounts Payable and have set up TSheets mobile time tracking for my team.
Ahmelie is a skilled bookkeeper with a strong work ethic. Since we started working together, she's helped me simplify my company's bookkeeping processes and move to Quickbooks Online. What I appreciate most about Ahmelie, in addition to her sense of humor, is her passion for technology. She regularly makes recommendations of software and tools that will simplify and make processes smoother and my life easier. Ahmelie also graciously answers all of my questions with ease and never once rolls her eyes, even though she very well could! I'm grateful for Ahmelie and her expertise. My business runs smoother as a result of her efforts. I highly recommend, giving five stars across the board.
I just wanted to tell you that it was a breath of fresh air dealing with Ahmelie this morning. I'm an old airline guy and on-time is/was everything. Things went like clockwork. Of course knowledge adds to the picture. We were ready to go right smack at the appointed time. Excellent. Jeff you were also very responsive in setting things up. Being from NY and having things happen like you made this all come together is wonderful. I am looking forward to our next appointment. Honestly, I am impressed. Business in this state of Florida is not conducted with the professionalism you guys have shown.
Ways We Can Engage With You
A One-time Jump Start
Just need help getting off the ground?  We can do that with an emphasis on training you to be self-sufficient.
On-Demand Availability
Get same-day immediate support from an accounting professional who knows QuickBooks – and knows your business.
By Monthly Retainer
Rely on a dedicated resource every month to perform the specific accounting needs your business has.